Welcome to the 2020 – 2021 season!
Covid-19 : Nov 23 2020 update
Please take note of the changes that are implemented in order for us to continue curling. These orders are both from Dr. Bonnie Henry and Curl BC.
We can continue curling but spectators are not allowed.
Masks are mandatory on the ice (see attachment below). Curl BC also gives suggestions on their website as to properly wearing masks while on the ice. See here.
Masks are mandatory in

all

areas of the facility. Only when sitting at your table upstairs are you allowed to remove your mask.
These changes are effective immediately. Please pay close attention and lets stay safe.
Link to the provincial health order.
Altered Game Play for the 2020/2021 season (updated Oct 31, 2020)
See all the Curl BC covid resources here : https://www.curlbc.ca/resources/covid-19-resources/
As you know, playing during the Covid-19 pandemic will mean that game rules have to be modified. We will follow Curl BC guidelines for 4-person curling as follows: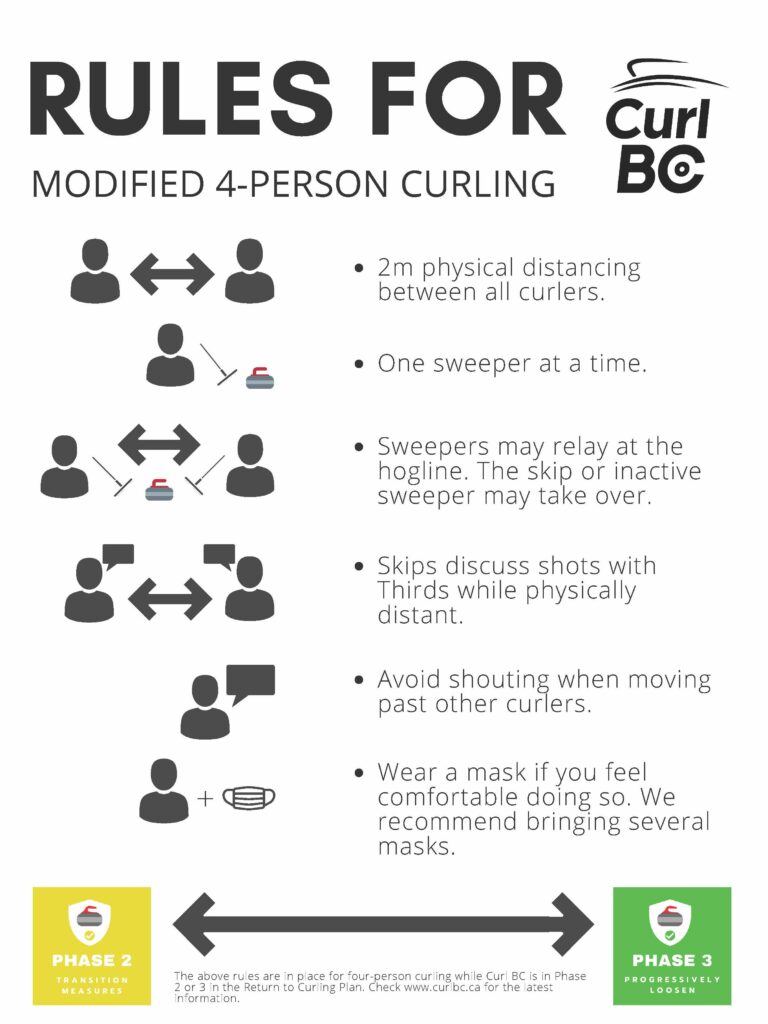 Also, the following safety measures will be in place at the club:
Lobby, lockers and ice surface:
Masks must be worn at all times

.
Teams are to gather in the lounge before games. Teams will go on the ice one sheet at a time.
Rocks will be sanitized before each game. Players will be expected to only handle their own 2 rocks during the game.
Use of rental equipment will be carefully monitored and all will be sterilized prior to being reused. Due to the extra cleaning cost, there will be a $2 fee per item.
Lounge
Masks must be worn at all times, except when seating at your table.
Lounge users must stay seated at the

same

table for the evening and cannot switch groups in the lounge.
The lounge will have strictly regimented and enforced social distancing protocols and designated traffic flow, as expected of any establishment.
Tables will be set a minimum of 6 feet (2 metres) apart, with no more than 4 people at a table.
Please contact the club by email if you have any questions.