Winfield Curling Club Bonspiels Dates
Men's bonspiel – March 17-19, 2023 ($280 per team + $20 Calcutta)
Curl BC 50/50 Raffle Fundraiser #5 – Draw date March 15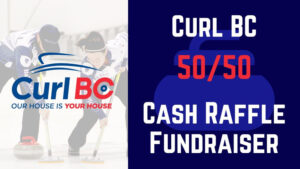 Help Winfield Curling Club by purchasing 50/50 tickets through CurlBC. If you win, the club wins! When you buy your tickets, select Thompson-Okanagan, then Winfield Curling Club. See details here. The last winner received $8667!
NEW! Sturling League (Stick Curling)
Thursdays, Feb 2 – Mar 2 @3:00-5:00 pm
WCC is excited to offer a 5-week Sturling league (stick curling) from Feb 2 to Mar 2. The cost will be $60 a person for the 5-week league. You can contact the club for more information. See here for the rules for Stick Curling.
Useful Links
WCC Spare Policy
Free guard zone and the 5-rock rule
Curling Rules & Etiquette
President's Message