Welcome to the 2020 – 2021 season!
Covid-19 : Jan 14 2021 update
As per the latest provincial health order, all indoor adult sports activities are now paused, including curling.
— Practice ice is available —
A word from the club President
Dear Curlers:
Happy New Year to each and everyone of you and I wish you all the best for 2021.
As you are well aware, we are unable to resume to curling for another month due to Bonnie Henry extending her Provincial Health restrictions until February 5, 2021. The board met on Jan 9 to review our situation. The decision is to continue to keep the ice open for practice until the next announcement from the province. Along with the practice ice being available to you, we wanted to let you know you are welcome to meet after in the lounge should you choose to do so. Again, all Covid 19 protocols are in place for you safety. Following the rules is a must with no exceptions.
In review, we are allowed 2 people per sheet for practice. Masks are mandatory throughout the building except when you have purchased a drink and are seated in the lounge. Wolf will take reservations by e-mail for practice times. Ice is available Monday – Friday evenings starting at 6:30pm.
As we move forward we will keep everyone up to date should there be any changes. If you have any questions or concerns please do not hesitate to contact either Wolf (Manager) or myself, Fern (President). We thank you for being patient through this season and certainly are looking forward to the end when we can meet socially and comfortably. Please stay healthy and feel free to take advantage of the practice time.Fern Conelley, President
Click here to see the government of BC province-wide restrictions page.
Click here to see the Curl BC page.
Altered Game Play for the 2020/2021 season (updated Oct 31, 2020)
See all the Curl BC covid resources here : https://www.curlbc.ca/resources/covid-19-resources/
As you know, playing during the Covid-19 pandemic will mean that game rules have to be modified. We will follow Curl BC guidelines for 4-person curling as follows: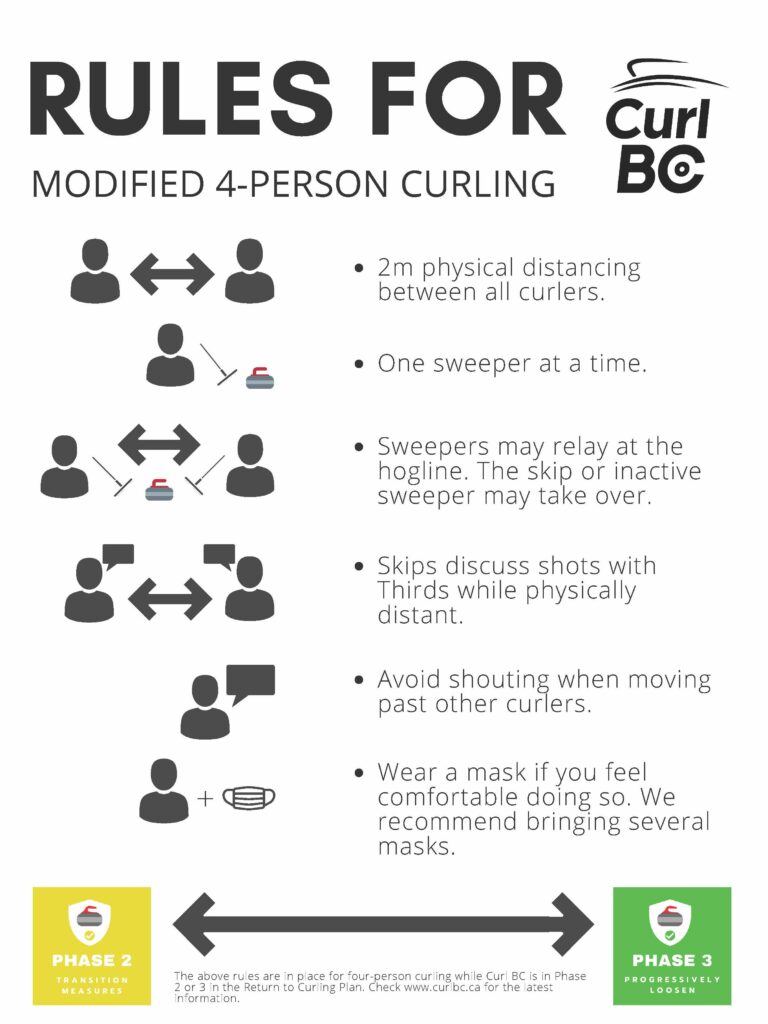 Also, the following safety measures will be in place at the club:
Lobby, lockers and ice surface:
Masks must be worn at all times

.
Teams are to gather in the lounge before games. Teams will go on the ice one sheet at a time.
Rocks will be sanitized before each game. Players will be expected to only handle their own 2 rocks during the game.
Use of rental equipment will be carefully monitored and all will be sterilized prior to being reused. Due to the extra cleaning cost, there will be a $2 fee per item.
Lounge
Masks must be worn at all times, except when seating at your table.
Lounge users must stay seated at the

same

table for the evening and cannot switch groups in the lounge.
The lounge will have strictly regimented and enforced social distancing protocols and designated traffic flow, as expected of any establishment.
Tables will be set a minimum of 6 feet (2 metres) apart, with no more than 4 people at a table.
Please contact the club by email if you have any questions.